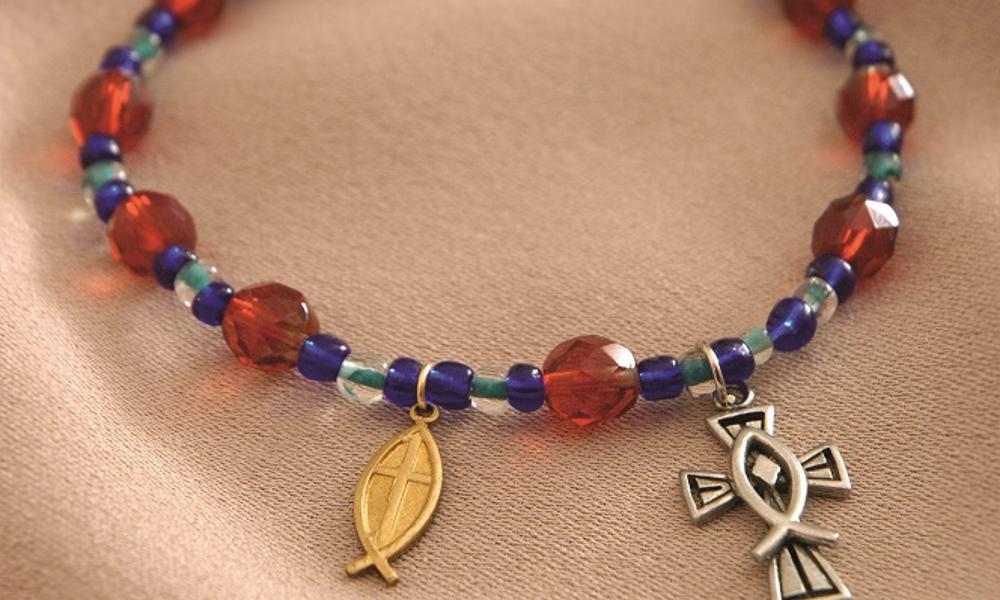 ---
How to Make a Rosary
October is the month of the Rosary
October is the month of the Rosary. With the liturgical feast of Our Lady of the Rosary celebrated on Oct. 7, this month is a perfect time to focus more fully on honoring the Blessed Virgin Mary in gratitude for the protection she gives the Church in answer to praying this special devotion. Below are directions to a simple craft for the family to make during this month dedicated to the rosary. Hopefully it will remind us to pray; it's not an actual rosary, but a great reminder! You can wear it or hang it on the rearview mirror or keep it with you as a symbol of your faith.
---
You will need:
Needle nosed pliers
53 4-mm faceted glass or crystal beads in a color of your choice. (Hail Marys)
Six 6-mm beads in a different color (Our Fathers)
Two 6-mm metal beads to use as end spacers
One miniature metal cross charm
One 8' piece of 8-gauge flexible jewelry wire
(all items can be purchased in the bead section of any arts and crafts store)
Loop one end of the wire and string in this order:
Two metal beads
Cross charm
One 6-mm bead
Three 4-mm beads
One 6-mm bead
10 4-mm beads
Repeat one 6-mm bead followed by 10 4-mm beads and loop end of the wire.