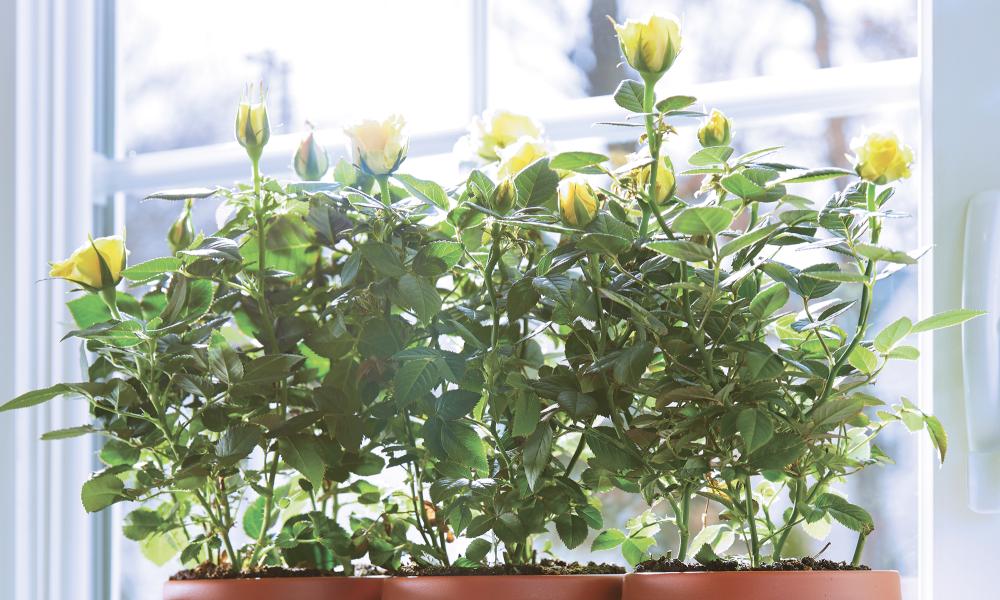 ---
A Mary Garden - Simple and Symbolic
May is an exciting time of year for my husband and me. Summer is around the corner, and we are in full planning mode for our outdoor space. May also happens to be the month of Our Lady, and, coincidentally, among our favorite of outdoor spaces is our Mary garden. A trellis of roses along the back side of our house partially encloses a statue of our Blessed Mother. And surrounding her, we enjoy the juxtaposition of soft lavender and intensely bright marigold in full bloom by the time summer arrives. But the flowers are chosen for more than just their beautifully contrasting colors. There is meaning and symbolism behind them.
Mary gardens date back to medieval times, and the many flowers and herbs of Our Lady are symbolic of her virtuous life. The Madonna lily represents her purity, and medieval imagery often depicts her with these in hand. Roses, the queen of flowers, represent Mary, the queen of heaven; and many accounts of Marian apparitions reference the spontaneous scent of roses at the instant of the miracle. Other traditions associate marigolds with Mary's simplicity, and lavender was a common "keepsake" of the Holy Land by returning crusaders, as it recollects Mary's flight into Egypt with Joseph.
A Mary garden does not necessarily require a great deal of space, either. I was once impressed with one growing in a flower box outside of an apartment window in the city.
The beauty of a container garden is that they can be made for exterior windows or for indoor display to brighten even the rainiest of spring days.
If you have a green thumb and enjoy the garden like we do, consider adding a container Mary garden to your other horticultural endeavors this spring. The one you see here is for indoor display (near a window). Statues of Our Lady come in small sizes, and there are many flowers and herbs with symbolic ties to her. I have opted to embellish mine with the fleur-de-lis, a symbol of the Trinity, as the band across its base represents Mary, who participated in making the three-in-one present here on earth. I also think three pots carry the Trinity theme nicely, though the art and the expression are entirely open to your design.
---
Container Mary Garden
Elongated wood box (store-bought or DIY)
Fleur-de-lis (wood embellishment)
Wood glue
3 terra cotta pots (to fit inside)
3 miniature rose plants
Potting soil
Hand shovel
It is best to purchase the terra cotta pots before buying or building a rectangular wood box. Six-inch pots are best for miniature rose plants. When selecting a box, make sure the three pots fit inside. Drill three small holes on the bottom of the box for water drainage. Paint or stain the fleur-de-lis wood embellishment (or leave unfinished). Adhere to the box. Plant miniature roses and water regularly.
---
Michelle DiFranco is a designer and the busy mom of three children.